March could not come soon enough!!! WOoo
ooo!
Why, you may ask?
Well, I'll tell you :) But first, if you are a regular reader and are my friend on facebook, poke me :) I'd love to know who my readers are! If you aren't my friend on facebook, just leave a comment and let me know a little about you :) Thanks!
Ok soooo why March? WELL...

M is for My NEW YEAR! The beginning of my spiritual new year, that is.. might sound crazy, but it doesn't feel like a "new year" to me until this frozen tundra has reached the beginning of the end.. and begins to thaw. The sun comes to visit more often, and though it is still cold, there isn't much longer before those buds begin to show and the birds wake me up with their beautiful singing and I take ALOT more walks! Which will be good for the baby :) Since 2008, every March I make it a point to have some time with the Lord and ask Him to completely blow me away this year! That it would be more amazing than any year before that and that I would have great expectations. He hasn't let me down yet! 2008-2009.. I graduated from the Honor Academy.. and eventually got back together with Brian after moving back home. Then from March 2009-next month.. I moved, quit my J-O-B, got engaged, married, and pregnant, (whoa!) and took up Mary Kay as a true business approach instead of just piddling around with it. WOW What a year! Every year I think to myself, "Ok, Lord.. how are you going to top that one?! And.. can I take much more than that?? I'm going to need some serious help!" It's a little scary asking for more this coming year. But why limit Him? I know He's enjoying this more than I am, and that He will pour out His best for our lives again and again.. but really! This is getting intense! I'm so excited to see what the coming year will bring :) And So incredibly thankful for the one that's coming to a close. He still has a little less than a month to show off with this year.. and I have a feeling He's either going to use it to blow me away some more this year, or to help me catch my breath before the next one starts! Wow, it amazes me when people think the life of a Christian is a boring one. Maybe there are some bored Christians out there.. but like anything and anyone else, your life is what you make of it! If you're bored, it's your own fault. Do what makes your palms sweat just thinking about, or your heart race just trying to fathom the possibility of such a dream becoming reality...becoming a memory to be cherished. There's no reason or excuse for anyone to not have the desires of their heart, when those desires are from the Lord. Each and every one has to be tested first, but it is so worth it!

A is for AWESOME NEW APARTMENT! We get to start moving OUT of this apartment, and into the home where we will welcome our little one to in just 5-ish months after that! Speaking of this new home! What a gift from GOD! The place I've been in since MARCH of last year, and that Brian has been in since we got married in AUGUST came with such wonderful welcomings and a beautiful view of the lake from our much enjoyed balcony and sliding glass doors from our 5th floor. Then winter came. The strong winds coming off of the lake that were in the summertime this nice summer lake-breeze became this bitter, hair ruining, instant chapped skin, eye-drying-have-ta-squint-but-where's-the-car Freezing GUST that was absolutely ridiculous. Good thing we paid $20 for the garage parking :) All the other cars looked the same with their tops covered in a white icy mess. A yelling, cussing, not so friendly neighbor lived above our apartment since the week before the wedding. I'm not sure if he's cooled it a little or if we're just getting used to it.. but either way, we look forward to hearing the pitterpatter above us of the little kids upstairs at the new place than this yelling, cussing, scary man. We've been praying for him, as we believe it may be spiritual warfare from what we hear him say, and from what the police have told us about him and his apartment. Please also pray for him. Although it's caused some sleepless nights, we feel blessed that it was us and no one else. We are blessed that we've had the opportunity to lift him up. It was not easy to do, but I believe our prayers have moved mountains in his life. Or at least they will one day :) SOOO I got Way off track, but here's the rest about the new place! It is owned by friends of Brian's parents from church, and the rent is only about $30 more than what we're paying now (which if we stayed here, our rent would go up, so really it is LESS than what we would be paying here if we were to stay) AND we do not have to pay for the gas heat, water, sewer, or trash pick up.. the only utilities we have to pay is electric, which overall, we can control how much we use :) WOOHOO! Most other places are alot more for rent AND you have to pay utilities. Especially for two bedrooms!
R is for... Rainbows of COLOR! We can start PAINTING! Yes! We are allowed to paint this new place so no more WHITE walls! :) We just have to paint them back when we move out. Can someone say, "Cutesy NURSERY!??" YEssss!!!

C is for CLOSER to W A R M weather :) I

know I already mentioned this in the first section, but I figured it was worth mentioning TWICE!




H is for Hard, but happy Celebrations! Toward the end of the month, I'll be celebrating the lives of: my sister and her s

on, whom I'll be 5 years closer to seeing again, and celebrating the birthdays of the my almost 6 and 11 year old nieces and my almost 3 year old nephew :)
March is coming! Which means SO IS St. Patrick's day! GREEN! My fave color
:) And Brian and I are both part Irish.. though we only kiss *each other* and don't drink.. we'll wear our green and freckles and maybe go out to eat :) Do you have anything you're looking forward to for March? Or even for 2010? I love comments :)
Well, dedicated to Fishermen everywhere, here's the end of this post, written in Green for you Irish folk ;)

My awesome dad (he really is an incredible man and I look up to him so much!) was fishing in Pennsylvania this afterno
on and caught a catfish/eel looking fish with fringy EXTERNAL gills and FOUR LEGS!!! He threw it back, but after 45 minutes of searching the internet, I
finally found a match.
I give you, the WaterDog Fish: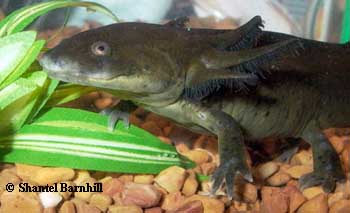 Pretty creepy, eh? Catfish head, eel body, and four legs.. ick! .. but kinda cool at the same time..
Has anyone else ever seen or caught one of these before? It's a first time for me. They must be kind of rare since it was so hard to find online!
thanks to aqualandpetsplus.com and caudata.org for these photos! Oh, and google image search ;)
OK, ok.. you know I couldn't just end this post with a creepy looking fish thing..
so here's a pic of me and my daddy on my wedding day :) Right by the lake we've gone fishing in since I was a little girl! Love ya, Dad :)